In 1989, John Brethour, a meat animal research scientist at KSU Beef Research Center in Hays, picked our herd to help calibrate and advance the development of his ultrasound technology. This gave us a bit of a leg up on selecting for carcass merit, by giving us ultrasound data before it was commercially available.
Since then we have become one of the leading marbling programs in the country, having 8 Current Sires in the top 100 of the breed for Marbling EPD, along with 8 Current Dams, 14 Non Parent Bulls, and 12 Non Parent Cows.

Green Garden does not raise terminal cross bulls, we raise bulls you can build a herd on that will get you your premiums when you go to town.
The real advantages come when you retain ownership and get to see the premiums at the packing plant, and you also get to see them in your own freezer. With our cattle you can still get premiums if you want to feed them for 60-90 days, instead of the typical 150 days.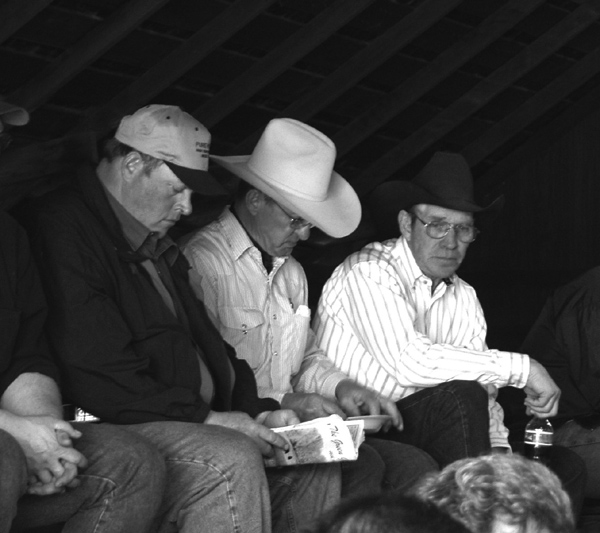 The Missouri Boys

Since 1998, we have been working with a group of ranchers from Northwest Missouri. They sat down with Dick and came up with an aggressive cow turnover breeding program to give them the most bang for their buck at the packing plant. In the span of 10 years they went from pen loads of calves that went 60% Choice, with only a handful qualifying for CAB to pen loads going 90-100% Choice, 80-90% CAB, with 50% grading Prime.


Certified Angus Beef
CAB is the worlds most successful branded beef program. Their recommendations for Marb (.53) and $G (34.09) are good starting place to work from, but the added value you get from higher EPDs are well worth the effort and the expense. Paying attention to the cows you keep is just as important as using a high marbling bull. The American Angus Association has developed index tools called $ Values that combine various trait EPDs and economics for ease of selection. Realizing that carcass weight, ribeye area, and fat thickness also affect CAB acceptance, $ Grid ($G) combines Marb and other traits that influence CAB acceptance rates. Its value is calculated using a three-year average of grid premiums and discounts. Since marbling is the most limiting factor in CAB acceptance, always consider both Marb and $G to ensure continual progress toward brand certification.



LM_CT155




St. Joseph, MO Mon Dec 10, 2018 USDA Market News Service





NATIONAL WEEKLY DIRECT SLAUGHTER CATTLE - PREMIUMS AND DISCOUNTS




For the Week of: 12/10/2018




Value Adjustments




Range Simple Avg. Change




Quality:




Prime 0.00 - 26.00 11.43 0.20




Choice 0.00 - 0.00 0.00 0.00




Select (18.00)- (8.00) (13.83) 0.59




Standard (63.00)- (10.00) (31.21) 0.22




CAB 2.00 - 6.00 3.78 0.11




All Natural 25.00 - 50.00 31.40 0.00




NHTC 16.00 - 23.00 19.88 0.00




Dairy - Type (14.00)- 0.00 (2.67) 0.00




Bullock/Stag (55.00)- (15.00) (34.50) 0.00




Hardbone (63.00)- (20.00) (36.23) 0.15




Dark Cutter (55.00)- (20.00) (35.38) 0.00




Over 30 Months of Age (40.00)- 0.00 (16.69) 0.00



*

Cutability Yield Grade, Fat/Inches




1.0-2.0 < .10" 0.00 - 8.00 3.86 0.00




2.0-2.5 < .20" 0.00 - 5.00 2.00 0.00




2.5-3.0 < .40" 0.00 - 5.00 1.64 0.00




3.0-3.5 < .60" 0.00 - 0.00 0.00 0.00




3.5-4.0 < .80" 0.00 - 0.00 0.00 0.00




4.0-5.0 < 1.2" (15.00)- (8.00) (11.93) 0.00




5.0/up > 1.2" (25.00)- (10.00) (17.79) 0.00





Weight:




400-500 lbs (40.00)- 0.00 (30.71) 0.00




500-550 lbs (40.00)- 0.00 (22.47) 0.00




550-600 lbs (35.00)- 0.00 (9.47) 0.00




600-900 lbs 0.00 - 0.00 0.00 0.00




900-1000 lbs (15.00)- 0.00 (2.00) 0.00




1000-1050 lbs (20.00)- 0.00 (7.00) 0.00




over 1050 lbs (50.00)- (5.00) (23.67) 0.00